Open Positions
Apply now and become part of our team!
Was wir dir bieten
Von diesen Benefits kannst du bei Sparkteams profitieren:
Flexible Arbeitszeitgestaltung
Angepasst an deine individuellen Bedürfnisse und Lebensumstände kannst du deine Arbeitszeit bei uns flexibel gestalten und sowohl im Büro als auch im Homeoffice arbeiten
Freiraum
Wir unterstützen deine persönliche sowie fachliche Weiterbildung und stellen dir hierfür bei einer Vollzeitstelle 30 Tage pro Jahr zur Verfügung.
Attraktiver Standort
Unsere schönen, modernen Büroräume befinden sich am Alten Schlachthof in Karlsruhe und sind sowohl mit dem ÖPNV als auch mit Auto oder Fahrrad sehr gut zu erreichen. Verschiedene Cafés und Restaurants in der Umgebung sorgen in der Mittagspause für Abwechslung.
Who we are
Until now, we have worked with over 20 SaaS companies to help them accelerate their product development.
Hey.
We founded Sparkteams in 2013. By now, we're both veterans in dealing with technical complexity and building high-performing teams. Our Hearts bleed when we see how much potential is left down the road in really great tech companies. How brilliant people who really want to make a difference get burned out and still can't bring what's inside them into the world. Seeing that and at the same time knowing that it can be different is what drives us at Sparkteams.
Micha & Jens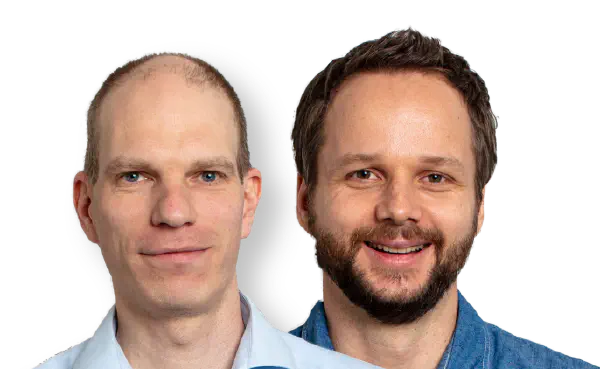 Authentic and convincing - the guys at Sparkteams definitely know what they're talking about.
Nikolaus Huber
Software Architect @ Reservix